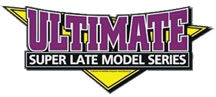 After a frustrating outing at Speedweeks Donald McIntosh pointed things back in the right direction on Saturday night in his Blount Excavating #7 Stowers CAT/ Rocket Chassis/ Vic Hill Racing Engine Super Late Model. He advanced four spots to finish fifth with the ULTIMATE Super Late Model Series at North Georgia Speedway.
"We went to Volusia for the last week of Speedweeks, and it just seemed like nothing could go right for us," McIntosh recounted. "We kept our heads up though and went back home and went through everything. The hard work showed on Saturday night at North Georgia Speedway against a tough field of racers. We've still got a little more tweaking to do, but we are definitely getting closer to where we need to be. (
Speed 51 Photos
)
"I want to thank Blount Motorsports and this whole team for busting their tails to give me such a great car. We're looking forward to going to Smoky Mountain Speedway this Saturday. Hopefully we can get our first Outlaws win."
Saturday evening found Donald McIntosh and Blount Motorsports thundering into North Georgia Speedway (Chatsworth, Georgia), where a $4,000 top prize was on the line. Twenty-nine ULTIMATE Super Late Model Series competitors signed into the event.
Via qualifying Donald locked into the ninth-starting spot for the 40-lap feature. He raced in the Top-10 throughout the feature before racing his way to a fifth-place finish behind race winner, Michael Page, Jason Hiett, Brandon Overton and Shane Clanton.
For more information on the event, please visit
www.ULTIMATESupers.com
.