Donald McIntosh picked up his first win of the season on Friday night at North Georgia Speedway (Chatsworth, Ga.).
McIntosh piloted his Blount Motorsports No. 7m Ole Ben Franklin Motors/ Stowers Cat/ Rocket Chassis/ Vic Hill Racing Engine Super Late Model to a $4,000 victory in the Ultimate Super Late Model Series 10th Anniversary Season Opener.
The win was an emotional one for McIntosh, as he dedicated it to the man who helped him get started in Dirt Late Model racing in 2010.
"I have to dedicate this race to Phil Coltrane," said McIntosh. "He got me my start in dirt racing and he is in the hospital right now and I have my prayers with him and his family."
"We had a really good car and I think clean air helped us being out front," McIntosh added. "I knew being aggressive at the start was going to be important or otherwise it would be hard to get around Cory [Hedgecock].
"I can't thank him enough for racing me clean, I might've turned down on him a little bit but to be honest with you. I did not know he was there until we touched, but overall good racing tonight."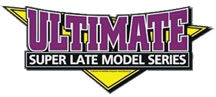 In a field of 21 entries, Donald posted the second fastest time in qualifying behind Hedgecock, which positioned him second on the starting grid for the A-Main.

In the opening laps of the race, McIntosh battled fiercely with polesitter Cory Hedgecock. McIntosh ultimately came away with the top spot and would hold off several challenges on restarts.

Leading nearly the entire 40-lap feature, McIntosh soared to his first win of the season by finishing 1.584 seconds ahead of Zack Mitchell, Hedgecock, Booger Brooks, and Jeff Smith at the finish line.
For full results from this event, please visit www.UltimateSupers.com.