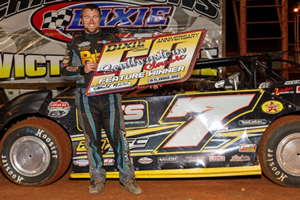 Saturday night's $5,000 victory in the 50th Anniversary Southeastern Classic at Georgia's Dixie Speedway was meaningful to Donald McIntosh on multiple levels. Not only did it represent his first victory of the season, but it also was his first triumph with a car and engine combo that he and his dad have been developing for over a year.
(Kevin Prater photo)
"Man words can't begin to describe what this win meant to me and my dad," McIntosh revealed after picking up the win in his family-owned and Buick-powered No. 7 007 Race Car. "When we started working with this Buick engine last year a lot of people laughed at us, and it hasn't been easy, but we finally got it running the way that we knew it could.
"I definitely have to thank Vic Hill Race Engines for their help because they let us come up and dyno this prototype motor at their place. It allowed us to fine tune it. It's definitely been a labor of love, but it's definitely been worth it. I think the coolest thing is that I raced asphalt for several years, and their rules would've never let us try something like this. However, in dirt track racing you can try different things, and that's really awesome."
With a scheduled off weekend with Blount Motorsports, Donald McIntosh headed into battle in his family-owned entry on Saturday night at Dixie Speedway (Woodstock, Georgia). In a field of 23 cars, McIntosh registered the seventh-fastest time in qualifying, locking him into the seventh-starting position for the main event.
Overtaking Shane Clanton for the lead on lap-21, McIntosh built more than a 4-second advantage throughout the remainder of the race to capture his first win of the season and a $5,000 payday. Clanton, Austin Horton, Tyler Millwood, and Cla Knight completed the Top-5 finishers in the 50-lap affair.
"When we joined forces with Blount Motorsports for this year, we worked out a deal where I could still run my personal car some to try and get it figured out," McIntosh noted. "I greatly appreciate everyone with that team, and I'm looking forward to getting back in the driver's seat with them this coming weekend in Georgia. Hopefully we can add a couple of wins to the season's tally."
For more information on the event, please visit
www.DixieSpeedway.com
.